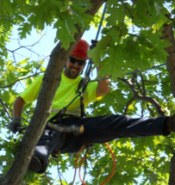 Name: Ian Ward
Position: Certified Arborist, Climbing Arborist
KTC since: part time since 2010
Previous work experience:
Hydro One, 2010 to present
Kelly's Tree Care Ltd, 2003-2008
Eagle Ridge "The Tree People" 2008-2010
Accreditation:
ISA Certified Arborist
Sir Sandford College graduate
About Ian Ward:
Ian and his family love to spend time at the family cottage enjoying the outdoors and life in nature. Ian has a passion for trees and producing quality work. As a result, he still occasionally works at Kelly's Tree Care part time to get away from the daily grind of hydro line clearance work at his current job.